Outstation Taxi & Car Rentals  Online Cab Booking Services in India
We are looking for Tours and Travel Operators as Partners
Do you have taxis? Are you interested in selling tour packages? then join with us and its free.    JOIN NOW
We are looking for Tours and Travel Operators as Partners
Do you have taxis? Are you interested in selling tour packages? then join with us and its free.    JOIN NOW
Need a Cab from Mumbai to Mahabaleshwar for 1 days

Need a Cab from Vadodara to Mahuva for 1 days

Need a Cab from Lucknow to Patna for 1 days

Need a Cab from Chandigarh to Sundernagar for 1 days

Need a Cab from Kanpur to Auraiya for 1 days

Need a Cab from Thane to Vasco Da Gama for 1 days

Need a Cab from Coimbatore to Ernakulam for 1 days

Need a Cab from Ludhiana to Kurukshetra for 1 days

Need a Cab from Surat to Daman for 1 days

Need a Cab from Mysore to Bengaluru for 1 days
vikas_kaushik booked a cab from Pune to Shirdi, Maharashtra, India for 2 days

aaad booked a cab from Chandigarh to Bengaluru, Karnataka, India for 1 days

rahulec45 booked a cab from Bangalore to Vellore, Tamil Nadu, India for 1 days

sridurgacabs booked a cab from Bangalore to Yercaud, Tamil Nadu, India for 3 days

amolshinde4 booked a cab from Bangalore to Tirupati, Andhra Pradesh, India for 1 days

juberb833 booked a cab from Bangalore to Mysuru, Karnataka, India for 1 days

arpit.tak booked a cab from Bangalore to Mysore Division, Karnataka, India for 1 days

arpit.tak booked a cab from Bangalore to Mysore Division, Karnataka, India for 1 days

kanaipune booked a cab from Bangalore to Ooty, Tamil Nadu, India for 2 days

kishan.kumar.don booked a cab from Bangalore to Gudalur, Tamil Nadu, India for 2 days
sunil registered as a partner from Bangalore

jasvinder4689 registered as a partner from Delhi

jayant registered as a partner from Mumbai

hemant registered as a partner from Mumbai

prem803 registered as a partner from Howrah

tanmaytravels0805 registered as a partner from Aurangabad

venkatesh registered as a partner from Chennai

ram registered as a partner from Aurangabad

ssptaxi2017 registered as a partner from Chennai

cabpune1 registered as a partner from Pune
Why LIMECABS for my travel needs?
Now You don't need to look anywhere to get the best prices in the market. Get the best quotes from multiple vendors who are reliable and nearest to you. What are you waiting for ? Explore and find out the best ones.
Out customer support executives are well trained, and polite. Got any issue, Talk to us, We rectify it.
Our Vendors update their inventory on the fly. So You find a cab even if there is huge demand in the market like New Year and etc. We are striving to make sure that you always get a cab irrespective of season.
Now You dont need to look any where to find about the reliability of a vendor. Every Customer leaves a review after a trip, check and compare the best ones. Only paid customers are allowed to leave a review so the reviews are reliable and genuine.
arpit.tak reviewed sri durga cabs, bangalore
vijaykumarbills reviewed rami reddy tours and travels, bangalore
surya.19022006 reviewed rami reddy tours and travels, bangalore
reshma.gudivada21 reviewed rami reddy tours and travels, bangalore
ravi.pullala reviewed rami reddy tours and travels, bangalore
LIMECABS Car Rentals is an online cab booking aggregator that aims to provide reliable, affordable and safe taxi services to its travellers. In 2015, We rendered services only in Bangalore and served more than 2000 Customers as of now. With the response that we got from our customers, We are delighted to expand our operations across mulitple Cities in India. LIMECABS, aims to provide operations across more than 60 cities in India including Bangalore, Hyderabad, Chennai, Mumbai, Pune & Delhi.
Even though, as a market place our primary category is chauffeur driven car rental service, We are also planning to offer packages which are economical and convenient along with one way services in selective routes.
Advantages with Limecabs:
Limecabs as a market place, You can avail the best price from multiple vendors.
Only paid cusotmers are allowed to leave reviews, so you can vouch on the customer reviews as they are genuine.
Never miss a cab. Our Vendors update their inventory on the fly, So you can find a vehicle even in the rush hours.
In case of cancellations, Don't worry about the advance payment that you paid. We hold the amount for 7 days before releasing it to the vendor, and you can raise a request to refund the money in that duration with a simple click.
time is changing, this year smart phones is expected to witness a growth of 15% which is close to 130 million smart phones.
Internet bandwidth rates has fallen a staggering 25%-30% in the last two yeas, that means internet is getting more affordable.
People are relying on internet to find new information, be it cab rentals, packages, tours, and etc in the field of travel industry.
So, dialling phone numbers to find information gone, now its the internet, so snatch it up.
Serve Only Genuine Customers, as the advance amount confirms the booking.
We do the work like setting payment gateway for you, and linking your bank account with the getway so you get the funds directly to your bank account.
Do we charge any thing from you for registration? Absolutely No and its free.
Intercity Cab Service
Customer first enters his itinerary details like destination, journey dates and etc in the cab search from.
He can see the approximate quotations from various vendors along with interstate permits.
Customer books the vehicle and pay the 15%* advance amount for confirmation through our payment gateway partner Instamojo.
Instamojo holds the amount for 7 days, and if there is any discrepancy you can raise a request to refund the money.
How to request for a refund ?
Requesting a refund on Instamojo is simple. Refer to the email confirmation that you received from Instamojo upon your successful purchase. Click on Request a Refund to raise a request for a refund.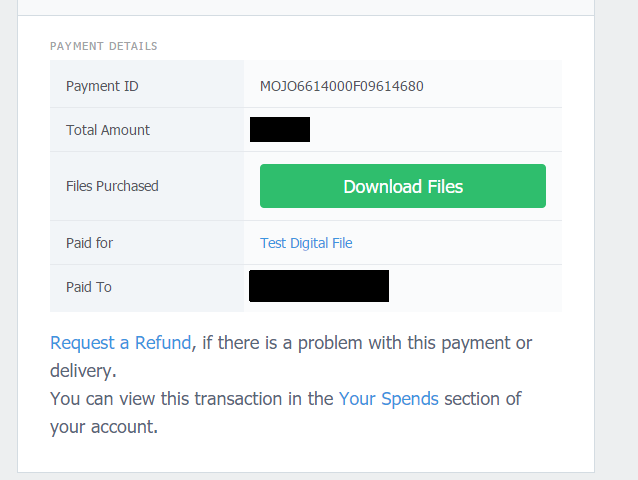 Once you create a case you can monitor the status of the same/add comments in your Instamojo buyer dashboard under the Resolution Center tab.
You will receive an update from our disputes team in 24-48 hours and they shall ensure that your concerns are resolved.
Image courtesy Instamojo